The Ruby is pleased to bring " Top Gun: Maverick" (PG-13) back to the big screen for one week Sept 2 to 7 at 7 PM Fri-Wednesday and 3 PM Sat and Sunday.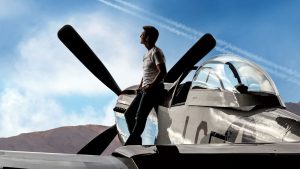 Films Coming Soon: Bullet Train (R) action thriller with Brad Pitt, and comedy Mack and Rita (PG-13) with Diane Keaton.
Sept 15  at TBA: For Third Thursday (celebrating harvest time), HDCA sponsors a free family fun matinee. Stay tuned for film title.
Sept 15 at 8 PM: National Theater Live " Straight Line Crazy" brings the best of British theater to the Ruby for one evening only. Ralph Fiennes leads the cast in David Hare's blazing account of the most powerful man in New York, a master manipulator whose legacy changed the city forever. For forty uninterrupted years, Robert Moses exploited those in office through a mix of charm and intimidation. Will the weakness of democracy be exposed in the face of his charismatic conviction?
Ruby News: This Saturday Sept 3 in honor of National Cinema Day we join over 3,000 theaters nationwide to offer you every show at $3 ticket price that day. We're doing it as a celebration of our small town theater, and  a 'thank you' to our moviegoers that have helped us begin to recover from the long closure (72 weeks) during the pandemic.  And we hope that those who have not been back to the Ruby yet, or have not ever been in to enjoy this gem of a theater, we want to offer extra encouragement. "Top Gun: Maverick" will be showing at 3 PM and 7 PM this Saturday. No advanced tickets. The box office opens 30 minutes before each show, so come early!
Ruby Theatre Winter Hours begin Sept 9. Shows will be 7 PM Fri, Sat, Mon and Tues and 3 PM Sat and Sunday.
See you at the Ruby!