The Ruby presents Disney/Pixar's "Elemental" (PG) July 14-20 at 7 PM Fri, Sat, Mon-Thursday and 3 PM Sat and Sunday. Disney and Pixar's "Elemental" is an all-new, original feature film set in Element City, where fire-, water-, land- and air-residents live together. The story introduces Ember, a tough, quick-witted and fiery young woman, whose friendship with a fun, sappy, go-with-the-flow guy named Wade challenges her beliefs about the world they live in. Rotten Tomatoes gives "Elemental" a whopping 92% audience score!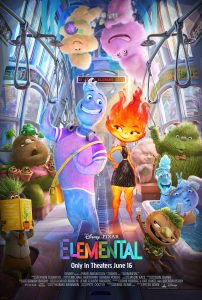 Coming Next :  "Indiana Jones and the Dial of Destiny" (PG-13), Wes Anderson's "Asteroid City" (PG-13),"Mission Impossible: Dead Reckoning Part 1" (PG-13), "Barbie" (PG-13) and "Oppenheimer" (R)
Ruby News:    Chelan's Ruby Theatre Celebrates 109 Years of Cinema Magic with Extra-Special Program at 7 PM on Sunday.  An evening full of fun, prizes and historic cinema by Chaplin, Keaton, and early Disney accompanied by Valentina the 1919 photoplayer.  $15 tickets available at the Ruby box office during all showtimes. Come celebrate the Ruby being a vital part of Chelan Valley life and the oldest continuously running movie theater in the Pacific Northwest. For more information check our website or call 509-687-3210.
See you at the Ruby!