The Ruby Theatre presents  the historic drama "Oppenheimer" (R for brief sexuality, language) Aug 25 to Aug 31 at 7 PM Fri, Sat, Mon to Thursday and 3 PM Sat and Sunday.  The story of J. Robert Oppenheimer's role in the development of the atomic bomb during World War II. We see his life from university days all the way to post-WW2, where his genius and fame saw him embroiled in political issues. Film run time is 3 hours. All star cast and Oscar-worthy performances.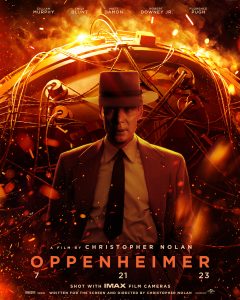 Coming Soon:
Sep 1-5: animated fun "Teenage Mutant Ninja Turtles: Mutant Mayhem" (PG). Note that we are back on our five-day run for shows until next May.
Sep 8-12:  drama "Dreamin' Wild" (PG-13) based on a true story and filmed in Spokane.
Sep 15-19: comedy "The Miracle Club" (PG-13) with all-star cast.
Sep 22-27: historic drama "Golda" (PG-13) with Helen Mirren.
Ruby News: The Ruby is seeking a part time (20-25 hours/week) Show Supervisor to be part of our great team. Some supervisory experience preferred. Training provided. Starting Salary $16.50-$19 an hour depending on experience.  For more information and application call: 509-687-3210, email: [email protected],  or stop by the Ruby during showtime.
See you at the Ruby!