The Ruby presents " Teenage Mutant Ninja Turtles: Mutant Mayhem" (PG) Sep 1-5 at 7 PM Fri, Sat, Mon and Tues and 3 PM Sat and Sunday. After years of being sheltered from the human world, the Turtle brothers set out to win the hearts of New Yorkers and be accepted as normal teenagers through heroic acts. Their new friend April O'Neil helps them take on a mysterious crime syndicate, but they soon get in over their heads when an army of mutants is unleashed upon them. Animated mutant fun for the whole family!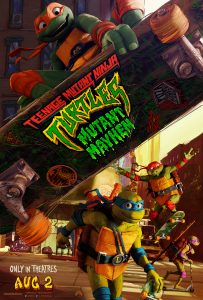 Coming Soon:
Sep 8: drama "Dreamin' Wild" (PG) . Based on a true story of musical brothers who made a great album many years ago that is rediscovered. Filmed in Spokane. Starring Casey Affleck, Zooey Deschanel, Chris Messina, Beau Bridges.
Sep 15:  comedy "The Miracle Club" (PG-13).  An all star cast with Kathy Bates, Maggie Smith, Laura Linney.
Sep 22: historic drama "Golda" (PG-13)  with Helen Mirren
Sep 29: comedy "My Big Fat Greek Wedding 3" (PG-13). Your favorite family goes to Greece to find long lost relatives!
Oct 6: "A Haunting in Venice" (PG-13) Agatha Christie's Hercule Poirot investigates a crime in the spirit world.
Ruby News:  After Sept 1 we are open Friday-Tuesday and closed Wednesdays and Thursdays.
Enjoy working with the public? Love movies? We are seeking a part time (10-15 hours/week) Show Supervisor.  Training provided. Salary $16.50 – $19/hour based on experience. Call 509-687-3210 or email rubythea[email protected],  or stop by the Ruby for more info and application.
See you at the Ruby!